Deep Cleanse, Extract and Hydrate Your Skin With Signature HydraFacial Treatment at The Medical Clinic!
HydraFacial addresses the appearance of:
Fine lines and wrinkles
Elasticity and firmness
Even tone and vibrancy
Skin texture
Brown spots
Oily and congested skin
Enlarged pores
One of the unique features that makes HydraFacial so special is the fact that it is suitable for skin of all types and ages. It is a incredible, non-invasive treatment that is pleasant to undergo and detoxifies, rejuvenates and protects the skin for immediate results and long-term benefits without downtime or irritation.
THE HYDRAFACIAL 6 STEPS
CLEANSE + PEEL
Uncover a new layer of skin with gentle exfoliation and relaxing resurfacing.
EXTRACT + HYDRATE
Remove debris from pores with painless vortex extraction. Nourish with intense moisturizers that quench skin.
FUSE + PROTECT
Saturate the skin's surface with antioxidants and peptides to maximize your glow.
Enhancements included in your treatment:
DETOX
Begin with Lymphatic drainage that improves circulation of the lymph system and helps to eliminate toxins.
REJUVENATION
Finish with red and infrared LED light to reduce redness and further stimulate collagen, supporting the natural production of vitamin D.
INCLUDED IN ALL OF OUR HYRAFACIAL TREATMENTS
LED Light Therapy
Elevates results, making any treatment more effective
• Red LED light therapy: stimulates blood circulation
• Blue LED light therapy: Targets and disrupts acnes bacteria and improves the appearance of oily and congested skin
Lymphatic therapy
Remove toxic buildup to reveal healthy-looking skin
• Helps detoxify the skin and decreases inflammation
• Removes unwanted buildup and optimises skin health
ADD ON: PERSONALISE YOUR TREATMENT FURTHER WITH ADDITIONAL BOOSTERS:
Add a Booster to address specific skin concerns. These HydraFacial super serums are tailored to your individual needs if you would like to add a booster onto your hydra facial treatment and are not sure which one to choose our skin specialist will discuss this with you during your consolation prior to treatment. Boosters include:
DERMA-BUILDER BOOST
Minimises the appearance of fine lines and wrinkles, as well as enhancing skin elasticity.
GLYSAL BOOST
Minimises congestion in pores and improves superficial acne scars and pigmentation. GlySal is made up of a blend of Glycolic, Lactic, and Salicylic Acids – all known for their exfoliating abilities.
BRITENOL BOOST
Brightens and balances skin tone while minimising the appearance of dark spots and sun spots.
HYDRAFACIAL FURTHER ADD ONS SPECIFICALLY FOR LIPS AND UNDER EYE, TO HYDRATE YOUR LIPS AND ENERGISE YOUR EYES!
HydraFacial also include add on treatments known as 'PERKS'
Perk Lip – exfoliate and hydrate for a lightly plumped and fresh lip pout!
Perk Eye – Reduce the appearance of puffiness and dark circles diminishing fine lines and wrinkles
treatments are a fusion of professionally delivered exfoliation within your hydra facial treatment along with take-home product.
Used as a stand-alone service if you wish to target this area only, or as an enhancement to HydraFacial treatment.
Simply takes 10 minutes to hydrate the lips or energise your under eye or spoil yourself and add on both!
Shows immediate and long-lasting results
Includes an in-clinic treatment + a take-home serum for daily applications
Expand the power of HydraFacial to almost any part of the body!
• Clarifying back protocol clears congested skin on your back
• Hand protocol helps dry and ageing hands look younger
• Arm lymphatic protocol reduces fluid tissue tension and inflammation
Life-Changing Results
The amazing results are both instant and long-lasting.
POLARISED IMAGING
UV DIGITAL IMAGING
FINE LINES AND WRINKLES
NASOLABIAL FOLDS
PIGMENTATION AND BROWN SPOTS
OILY AND CONGESTED SKIN
HYDRAFACIAL | KERAVIVE | SCALP TREATMENT | HAIR GROWTH STIMULATION
A Healthy Scalp is the Foundation for Healthier-Looking Hair
Scalp Health Matters | Introducing HydraFacial Keravive | Hair Growth & Scalp Stimulation Treatment
The benefits of a healthy scalp are critically important, yet not widely understood. Any patient who has concerns about thinning or damaged hair can benefit by improving the health of their scalp. A healthy scalp is the foundation for healthier and fuller-looking hair. Poor scalp health is a major contributor to Damaged And thinning hair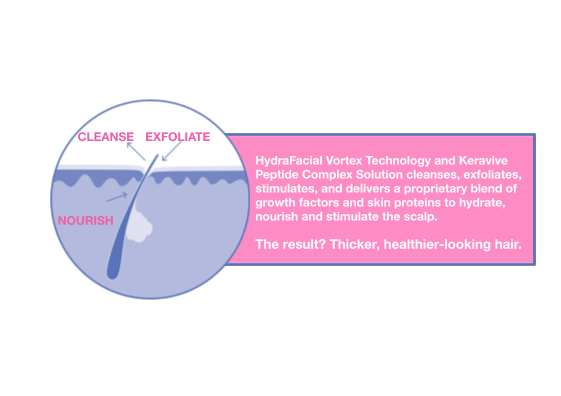 HYDRAFACIAL KERAVIVE IS FOR ALL SCALP TYPES