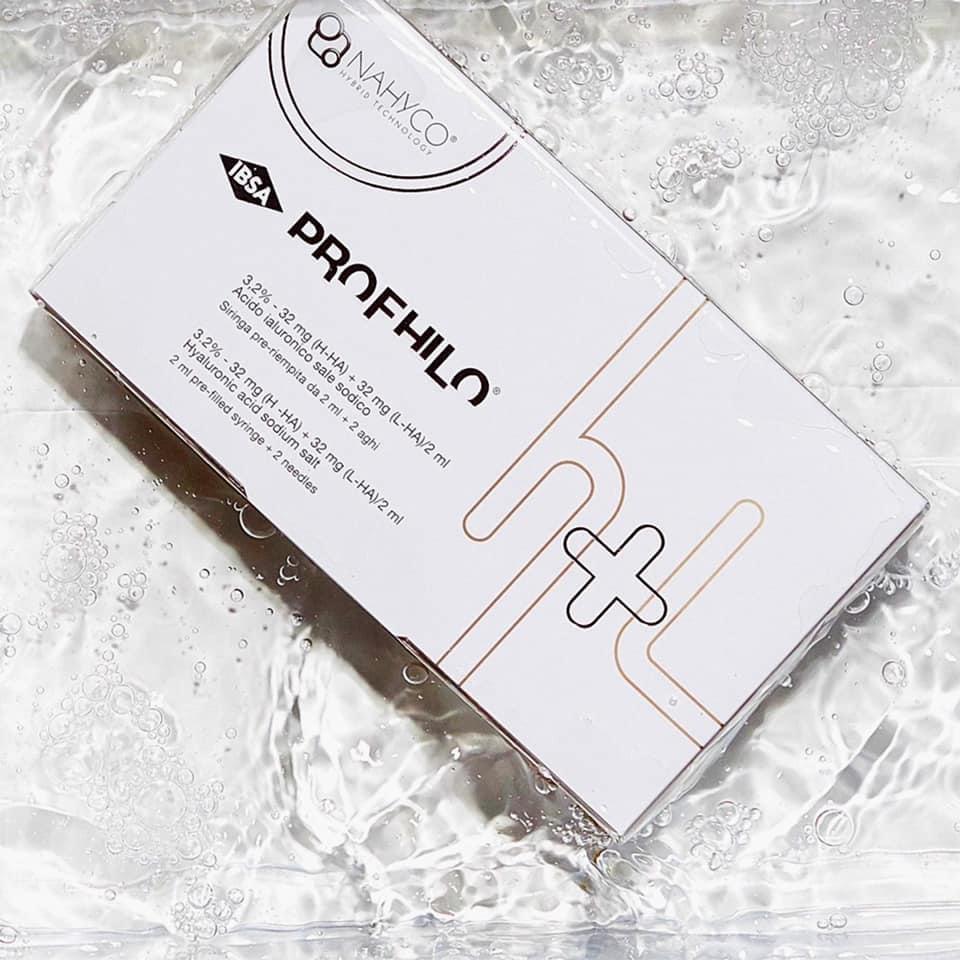 What is Profhilo?
Profhilo is an injectable skin remodelling treatment containing one of the highest concentrations of Hyaluronic Acid (HA) on the market, especially formulated for people whose skin is showing signs of aging, lacking in volume and elasticity.
Profhilo can be used on the Face, Hands, Neck and Chest! It is made up of 100% hyaluronic acid (HA). The HA within our bodies holds a thousand times its weight in water which helps us to keep all the moisture in our skin, allowing the skin to become hydrated and plump. It also helps to stimulate elastin and collagen! Resulting in smoother, tighter, glowing skin whilst helping reduce any fine lines and wrinkles too! Profhilo is injected into targeted areas of the skin, depending on the area being injected. Each treatment session involves 2ml of product being used within these targeted areas.
Profhilo is truly unique when compared to anything else available on the injectable market right now.
is perfect for those wishing to hydrate, plump and reduce those fine lines and wrinkles that dermal fillers or skincare cannot achieve. Therefore profhilo is a very unique and incredible injectable treatment!
Book in for your first session now and see for yourself!
Stimulates the fibroblast cells, thereby increasing collagen and elastin production.
Activates the keratinocytes to increase the synthesis of collagen and elastin.
Preserves and encourages the viability of adipocytes that affect the quality of of adipose tissue
How does Profhilo work?
Profhilo works by stimulating of 4 variants of collagen and elastin through the slow release of Hyaluronic acid. This process results in significant skin tissue improvement. This treatment is a skin booster however it also boasts an impressive tightening / lifting effect on the skin. It is injected into targeted areas of the skin. Profhilo is safe for a wide variety of uses across the body. The hyaluronic acid benefits are perfect for common treatment areas, like the face, neck, and hands, but it's also suitable for upper arms, the abdomen, and knees. The most common BAP maps are diagrammed to fit the face and neck with best-practices suggestions for exact placement with specific measurements. For example:
Is Profhilo a dermal filler?
Profhilo is not a dermal filler. Profhilo is a Hyaluronic acid based product which opens up a new category of injectable treatments – bio remodelling – setting it apart from dermal fillers.
This means it promotes two distinct effects in the treatment area; a bio regenerating action which stimulates the body's own Hyaluronic acid production and elastin; and a tightening effect, counteracting skin laxity and remodelling the face, hands, neck and chest!
Whereas conventional Dermal Filler products are aimed at restoring lost volume in specific areas or to add contour, Profhilo is not designed to add volume, contour or change the facial proportions in any way.
Instead, Profhilo is designed to repair the scaffolding under the skin in order to remodel the skins structure, treating skin plumpness, laxity and restoring firmness reducing fine lines and wrinkles across areas dermal fillers and skincare cannot achieve.
How many sessions are Required ?
Profhilo requires two sessions 4 weeks apart. We recommend repeating the treatment yearly.
What is the Cost?
£210 covers 1 session you must book your second session separately.
Total cost of two sessions £420.
THE SKIN FROM PREMATURE AGING caused by oxidative stress factors (pollution, excess exposure to UV rays, poor diet, smoking etc.)


THE PROTECTIVE BARRIER OF SENSITIVE AND STRESSED SKIN which is irritated and red due to oxidative stress or following dermoaesthetic treatments


SKIN QUALITY such as small wrinkles and the loss of firmness and elasticity. Profhilo is an injectable, stabilized Hyaluronic Acid based product, designed to remodel multi-layer skin tissue.
It is an anti-aging product that treats the source of aging and not only the aging symptoms